Slots Guide: How to Choose the Best Slots and Win
Slots are the driving force behind every casino on the planet — regardless of whether it operates online or as a brick-and-mortar. Statistics-wise, slots are not even in the upper bracket of the most profitable casino games, and yet, millions of avid gamblers in the UK and across the globe are drawn to their unique charms.
Why do slots spellbind so many casino-goers, and what makes these games such a dominant force in the gambling industry?
Slots' widespread appeal lies in their simplicity. Since the outcome of every slot spin is entirely dictated by chance, there is essentially nothing you can do to change your fortunes. Consequently, there's no point in brainstorming a complex slots strategy; there's no way of gaining an edge. Simply spin the reels and hope that lady luck is on your side.
Don't lose hope just yet. There are approaches you can take that will help you maximize your winnings when playing slots. But to implement them, you need to understand what makes casino slots tick, which is what this beginner's guide to online slots is all about.
We're going to bring you up to speed with the underlying mechanics of slots and delve into the nitty-gritty that may affect your winning odds. Before wrapping up, we'll provide a few pointers that may come in handy the next time you're on a spinning mission. Keep up!
Slots 101: How to Choose the Best Slots to Play
Before we get you clued in on the tech stuff, we need to get down to the basics. In the following sections, we'll discuss the math and mechanics behind online slots, and talk about the different types of these wildly entertaining games.
By the way you can check our list of best slot sites reviewed by players and casinosters team.
How do slot machines work
Online slots entirely resemble their land-based counterparts as far as the core gameplay and design are concerned. Like mechanical slots, modern video slots are made of three to five sets of virtual reels containing different symbols with varying payout values.
The main difference between mechanical reels (featured in old-school slots) and video reels is that the former had fixed symbols allocated to them that physically spun each time the player pulled the lever or pressed the Spin button. Reels found in modern slots don't have any pre-allocated symbols on them — there are no actual moving parts, the spinning motion is just implemented for the show to keep players hooked to the game.
The following video will give you an online slot gameplay walkthrough. For explanatory purposes, we chose Play'n GO's iconic Book of Dead slot. Those looking for slots for beginner players will find this game wildly entertaining.
RNG — Software Ensuring Randomness and Fair Gaming
Each spin in video slots is determined within a millisecond of the player pressing the Spin button by a program called a random number generator. This software is at the heart of every modern slot and ensures unpredictable (random) outcomes.
RNG's only function is the production of a random sequence of numbers. The program performs this process consistently, irrespective of whether the slot is being played or not. What this essentially means is the randomization process is carried through separately from the game itself. That said, the same principle applies to all types of slots, be it real money slots, free mobile slots, or some other category.
This also means that the slot has no memory — it doesn't keep records of your previous wins and losses. This negates the myth of hot and cold streaks. Many players believe that the best time to play slots is after someone loses a significant amount of money, but this is just a big misconception. The game (or rather the RNG) performs the same randomization function when you have £100,000 on your bankroll and when you're down to your last few credits.
To simplify things a bit, here's how it all plays out:
The player adjusts the coin value and the stake and presses the Spin button
The RNG picks out a random number from the string.
If that number is above a certain threshold, a winning combination is formed on the reels, and there is a payout. If it's below that value, the house wins and keeps your stake.
This video nicely explains what RNG is, how it works, and how online casinos implement this complex software onto their servers.
Different Types of Slots
Online slots are astonishingly diverse. As technology improves, developers continually look for unique ways to keep players engaged, creating new slots with different themes and gameplay elements. Still, in all that versatility, all slots can be divided into three main categories:
Classic slots — Usually featuring three reels, classic slots mimic mechanical slots of old, bringing back the glory days when slots reigned supreme on every casino floor from Vegas to Monte Carlo. These are also the best online slots for dummies as they feature straightforward gameplay with only a couple of symbols and no quirky bonus extras.
Video slots — These are the cornerstone of every online casino's slots library. Video slots come in every theme imaginable, from TV to Oriental, adventure, and Ancient Egypt. They boast cutting-edge graphics, high-quality soundtracks, and an array of bonus elements, including free spins, wilds, multipliers, multi-way payout mechanics, and more. On average, video slot machine odds, or payout percentage, sits at 94%–96%.
Progressive slot games — Coming off as slots with a monster win potential, progressives are linked to a vast jackpot pool that keeps rising as players play the game. When someone hits the grand prize (which is sometimes measured in millions of pounds), the jackpot meter is reset to a predetermined sum.
Slot Machines With the Best Odds
To learn how to win at slots, you need to understand their inner workings. Therefore, you need to come to grips with a couple of parameters that affect how much and how frequently a given slot will payout. Let's check them out together:
RTP  —  Short for return to player, RTP is a metric (expressed as a percentage) that describes how much of the wagered money on a given slot machine will be paid back to players over an infinite number of spins. RTP is the exact opposite of house edge, which is an assured percentage return to the casino site itself. You can calculate the slot's RTP by subtracting its house edge from 100%. Follow the best slots by RTP in the UK to find out the list of popular slot games.
Volatility — Volatility or variance is a measurement of the amount of risk involved with a specific slot. Highly volatile slots dish out occasional big wins; they can drain your bankroll in a heartbeat, but when they payout, the wins are often huge. Slots featuring low volatility produce a minimal variance on your budget by delivering rewards more frequently. However, the payouts are on the smaller side, so you won't be able to score a monster win at slot machine with low volatility.
Hit frequency — This refers to the odds that a given slot will land a payout combination on any given spin. For many players, hit frequency and volatility are interchangeable terms, but these are entirely different parameters. On average, online slots have a hit frequency of 20-40%.
By now, you're probably wondering where to find information about these stats. The RTP is sometimes displayed in the game's paytable section; in some cases, the payout percentages are posted in a dedicated section, which you can usually find in the online casino's footer.
Here's how Playzee casino, one of the most transparent operators, goes about it: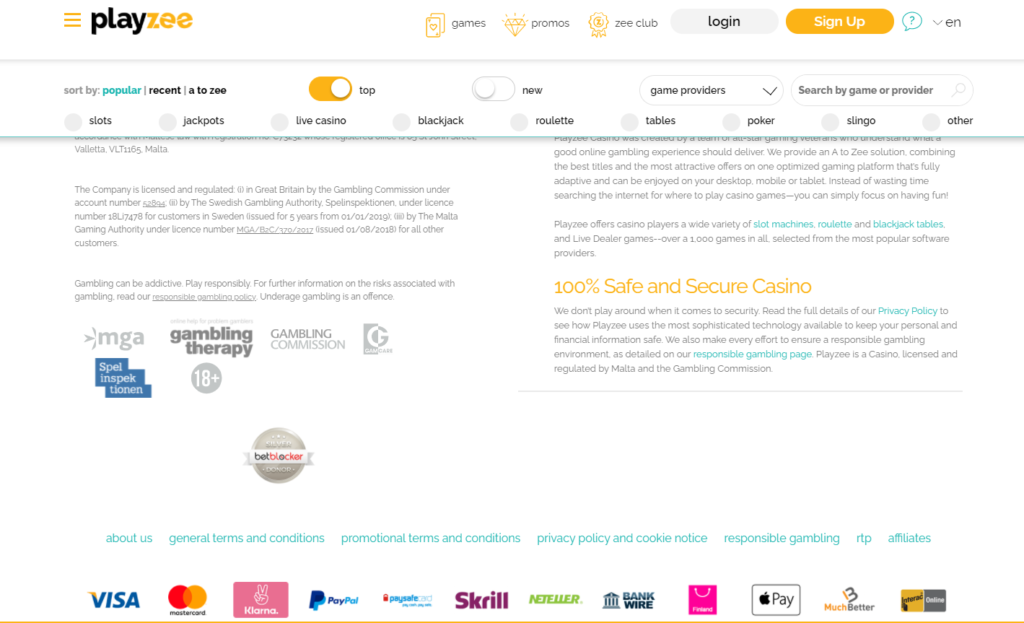 As for volatility and hit frequency, you can look up these figures on Google or go directly to the game developer's website.
Slot Tips: How to Win More Consistently
Slots are 100% games of chance. Therefore, there is nothing players can do to gain an edge. There's no foolproof recipe or tactic one can use to influence the outcome, contrary to what self-proclaimed experts might say.
Despite the underwhelming odds, there are some real money slots machine tips you can apply that will help you slightly increase your chances of winning. These are mainly based on common sense and math. Check them out:
Big risk-big reward: Although bet size doesn't affect the RNG system, it could impact the game's RTP. With some slots, you can unlock special features (like the expanded grid, which increases the RTP) only if you play on the highest stakes. With that in mind, the best way to play slots is to increase the bet as much as possible. The flip side is that you'll need a substantial budget for this kind of gameplay.
Look for low volatility-high frequency progressives: This combo will pad your bankroll and allow you to stay in the game longer, which is essential if you're playing a jackpot slot.
Pay attention to game weighting: Some casinos exclude certain slots from their promotional offerings. If your preferred slot is listed as a game that doesn't have a wagering contribution, it's best to look for another casino.
Be aware of the near-miss effect: The near-miss effect is when the game stops the reels with two identical symbols displayed in the first two positions with only one symbol away from forming a payout combination. This gives players the impression that a big payday will come soon — they just have to wait it out and invest a bit more. But as we previously discussed, slots have no memory of previous spins — each spin has an outcome independent of the previous ones.
Slots are not rigged: A common fallacy among players is that the casino somehow tampers with the outcomes of spins. For those wondering are slot machines rigged, the answer is — yes, but not the way you think. All casino games have a built-in mathematical advantage (house edge) that makes sure that a percentage of every bet goes to the casino. They're not cheating you in any way; this is just how things work in the gambling industry.
Closing Thoughts
This is it, folks; we've come to an end. Hopefully, our slot machines guide has helped you get the hang of the fundamentals of online slots. It's now time to put this newly founded knowledge to the test and bear the fruits of your labour.
Our team of experts at Casinosters has assembled a list of must-try slots for UK players. These are offered by some of the world's leading online casinos, so you're bound to have a safe and unforgettable spinning experience. Remember always to gamble responsibly, and we wish you all the luck in the world — you're going to need it!